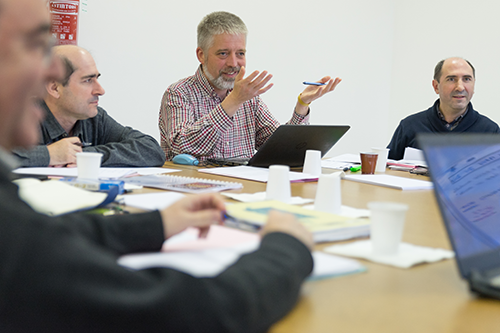 The Dehonian International Theological Commission (DITC/CTID) met December 4-7 at the Generalate. It is consists of Frs. Stefan Tertünte and Juan José Arnaiz Ecker of the Dehon Study Center and the coordinators of the continental commissions: Frs. Fernando Rodríguez Garrapucho (Europe), Joao Carlos Almeida (Latin America), Joseph Kuate (Africa), Francis Purwanto (Asia). Fr. Artur Sanecki, the general councilor responsible for the sector of spirituality, and thus the  president of the DITC, also participated. It was his first meeting with the commission. Fr. Heiner Wilmer, superior general, opened the meeting by presenting some guidelines of what would be the programmatic letter of the General Administration. On Saturday, December 5, members of the Commission facilitated a day of recollection for the community of Rome with the theme: "Open the doors to Christ, the mercy of the Father". Various ways of understanding "mercy" were presented, giving emphasis to the elements that are specific the cultures of the continents. This reflected the intercultural reality of the house.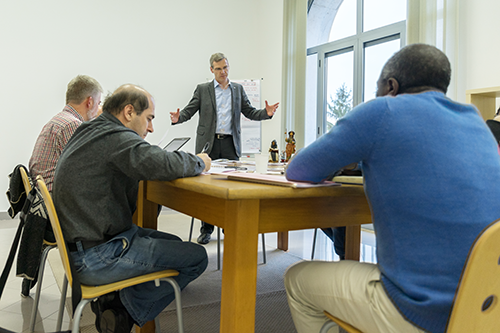 On Monday, December 7, Dr. David Neuhold presented a part of his historical work on Fr. Dehon, highlighting the findings that emerged from the report of a Dominican, Marie-Hyacinthe Cormier. A consultantor of the "Sant'Uffizio", he called for a vote on the request of Fr. Dehon to obtain from Propaganda Fide an independent mission in the Belgian Congo. Participants were surprised by criticism of him in regards to the founder's way of developing, organizing and apostolically orienting the congregation.
During the gathering Fr. Juan José Arnaiz Ecker proposed the development of a Dehonian study guide to ensure academic rigor, a verifiable profile and a congruence with the congregation.  The commission began planning for the next theological seminar of the congregation slated for 2017. Its theme will be: "Charism and devotions – toward an intercultural Ddehonian identity". Following Theologia Cordis (2008), Missio Cordis (2010), and Anthropologia Cordis (2014), the next seminar will continue to deepen the understanding of the relation between the founding experience of Fr. Dehon and on the lived Dehonian experience in very diverse cultural contexts. Indonesia will be the host country of the theological seminar.