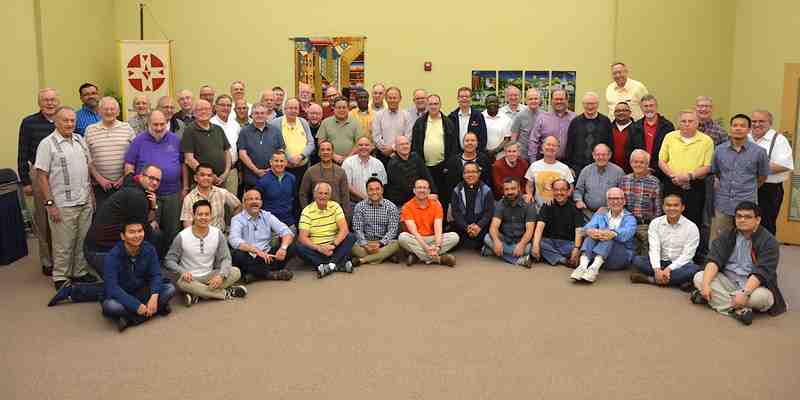 "The Dehonian Charism and the Year of Mercy" was the theme of the 2016 Province Assembly held June 6-10 in Hales Corners, WI.
Speakers included Fr. John van den Hengel, former vicar general and now superior of the Canadian Region, who spoke about the concept of "mercy" in the founder's writings. "Fr. Dehon has some beautiful words about the power of God's mercy," said Fr. John. "Mercy makes possible the capacity in humans to be merciful to others."
Fr. Byron Haaland, spoke about mercy in relation to reparation and the religious vows of the Priests of the Sacred Heart. "As Priests of the Sacred we are called by way of reparation and oblation to make the Church merciful," said Fr. Byron. "This is not an option. It is our vocation, our call that drives us to go forth into the world."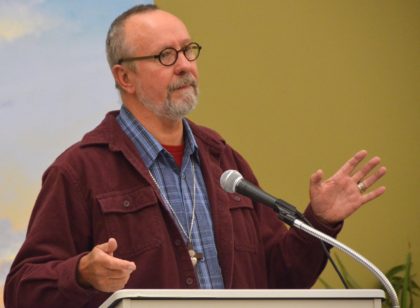 Dr. Grant Silva, assistant profession of philosophy at Marquette University, addressed mercy in regards to the current migration crisis. Migrants, both legal and illegal, should receive mercy, he said. Yet it is important that this mercy not be given out of a sense of forgiveness. "Mercy as forgiveness should be reserved for us, those sinners who live with our First World privileges and yet do nothing to help our brothers and sisters that reside in horrendous conditions," said Dr. Silva. "Mercy as compassion is the best approach to take."
The final presenter on the topic of mercy was Fr. Paul Kelly, who, reflecting on his own life, spoke about how we are personally touched by God's mercy expressed through others. "If we allow God to work in us, we can be shown the way, the way to give mercy, to receive mercy," he said.
The assembly also included presentations by Fr. Stephen Huffstetter, general councilor, on the general administration's Six Year Plan ("Mercy, in the footsteps of God"), Kathleen Dahlgren (province attorney) on Power of Attorney documentation, and Mary Gorski (province communications) on resources available to SCJs on the internet.
Click here to read more about the assembly on the province website.
Click here to view a photo album from the days (including pictures of the SCJ Mini-Golf Championship!).
Click here to download a high-resolution copy of the group photo.
Texts from several of the presentations will be made available to SCJs later this week.
Fr. Stephen Huffstetter (general councilor), Fr. Duy Nguyen, Fr. Ed Kilianski (provincial superior), Fr. Frank Bursnick, Fr. John van den Hengel (regional superior of Canada), Fr. Vincent Suparman, Fr. Joe Dean, Fr. Joe Doscher, Fr. John Czyzynski, Fr. Greg Schill, Fr. Mike Burke, Fr. Charles Brown, Br. Frank Presto and Br. Ben Humpfer. Not pictured: Fr. Anthony Kluckman and Fr. Greg Speck.