On Sunday (23/7), the participants of the Dehonian Theological Seminar had the possibility to travel to several meaningful places such as Borobudur Temple in Magelang, Maria Sendangsono Cave in Kulon Progo, and Marian Sanctuary and Sacred Heart Sanctuary in Ganjuran. Before the journey, the participants celebrated the Eucharist which has been presided over by Fr. Joseph Kuate SCJ.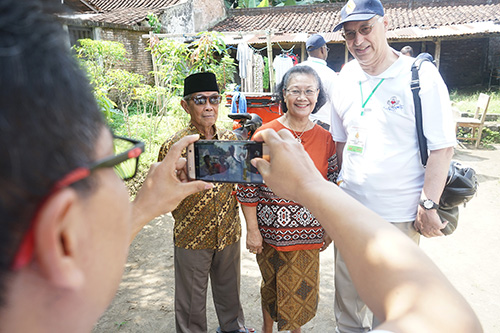 The journey started at 9:00 am in two busses according the linguistic groups. It took about one and half hours from the Retreat House of Syantikara to Borobudur Temple. Before entering the temple, the Dehonians visited the family of one of the Indonesian confrere. His family offered some drinks and local delicacies.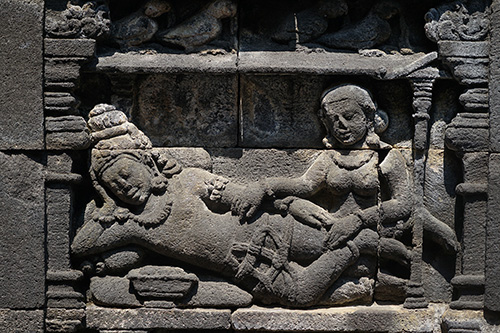 Accompanied by two guides, the participants toured the Borobudur Temple to the top. The Borobudur Temple is the world biggest ancient Buddhist temple, built on the 9th century D.C. The guides led the two groups towards the top explaining the way of the Buddha: from human passions to nirvana (a state of inner peace and union with the divine).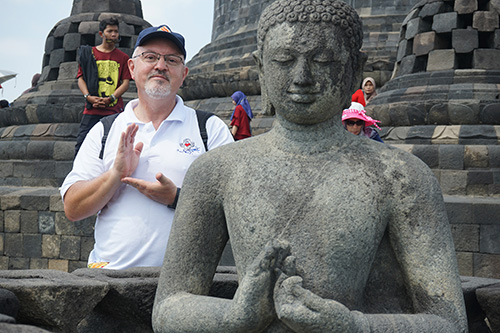 After enjoying the majesty of the ancient Borobudur Temple, the participants went for lunch at one of the nearby restaurant offering a beautiful view over the Borobudur Temple.
The field trip continued with an hour journey to the Sendangsono Maria Cave, located in Banjaroyo Village. To get to Sendangsono Maria Cave, the participants had to be transported by smaller cars, because of the narrow meandering road.
Arriving at Maria Sendangsono Cave, the participants prayed the Hail Mary in more than 15 languages. After that some of them washed their face with Sendangsono spring water or took the water, following a tradition taken from Muslim's costume.
It was 4:00 PM when the journey continued to the Marian Sanctuary and Sacred Heart Sanctuary in Ganjuran. After arriving at the church, the participants listened to an explanation of the history of the church and the temple. The church was rebuilt in the Hindu-Javanese style after a recent earthquake, and it presents many symbols taken from the local culture.
After the explanation the Dehonians participants had a time for personal prayer in front of the Temple dedicated to the Sacred Heart of Jesus.
The tour ended with a beautiful traditional dinner together with benefactors (familly of Mr. Philipus Haryadi) at the Bale Raos Restaurant in Yogyakarta.