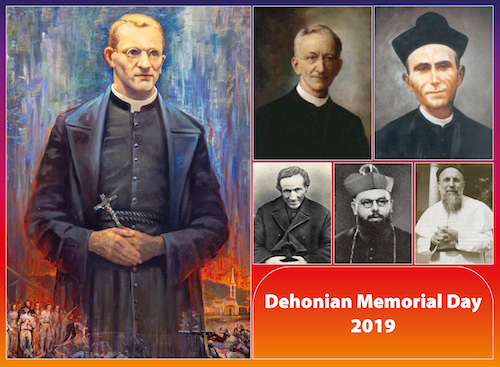 In 2000, the then Superior General, Fr. Virginio Bressanelli, announced to the Congregation the approval of the Decree of Martyrdom of Blessed Juan Maria de la Cruz.  He invited us to "recover the historical memory of those significant figures, our sisters and brothers, who can be models to inspire us to live the vocation and mission we have in the Church and in the world of today with greater intensity " (18th Dec. 2000, prot 286). On 31st May2004, the Superior General, Fr. José Ornelas Carvalho, communicated to the Congregation the institution of the Dehonian Memorial Day.  This was to be celebrated every year on November 26th, the day of the death of Bishop Wittebols and the other brothers in the Congo. "The death of Mgr. Wittebols along with other priests, speaks of a witness in the Church and with the Church, a martyred and missionary Church."
This year we propose to highlight the figure of our brother Fr. Martino Capelli.
75 years ago, on 1st October 1944, Fr. Capelli was killed by German Nazis together with the Salesian priest Don Elia Comini and another 39 men, women and children, in Pioppe di Salvaro (about 30 km from Bologna). The massacre of Monte Sole, also known as the Marzabotto massacre, took place between 29th September and 5th October 1944 where a total of 1830 people were killed. In this vigil we would like to know more deeply the person and life of our brother, Fr. Martino Capelli, and enter into his missionary desire, the passion for his people, and his availability for martyrdom.
Prayer
God who is great in goodness,
with love you have called us to make our lives
a gift to you and to our brothers.
We contemplate today
the example of so many Dehonians,
that with their witness of shedding their blood
they proclaimed the greatness of your love.
Give us the grace to know more deeply,
to accept more generously,
the stories of their lives given up to the last breath,
for your glory and the salvation of the world.
For our Lord Jesus Christ, your Son, who is God,
and lives and reigns with you, in the unity of the Holy Spirit,
One God, forever and ever. Amen.
| | | | | |
| --- | --- | --- | --- | --- |
| LANGUAGE | Biography | Prayer | Poster | Celebration |
| CN | | | | |
| DE | | | | |
| EN | | | | |
| ES | | | | |
| FR | | | | |
| IN | | | | |
| IT | | | | |
| PL | | | | |
| PT | | | | |