Province of Indonesia has a domestic mission to taken care of, in an easternmost province of the country called Papua. Bro. Gregorius Sigit Wiyono SCJ had been serving in the remote areas of the Papua for ten years, at times it takes fifteen days to reach the mission areas by foot, motor bike and helicopter. Bro. Gregorius Sigit Wiyono SCJ a religious brother from the province of Indonesia shares his experience.
---
"What do you want me to do for you?" Answer the person: "Lord so that I can see!  (Luke 18:41)These words from the bible reflect my sharing to follow. Last ten years I had been working in Papua's domestic mission land as a religious brother. And it is in this mission land that I felt the life of faith and church is very dynamic, feeling for so many souls who thirst for the word and the Eucharist who are not served to the fullest. It was in Papua that my conscience and morals often rebelled against injustice and helplessness.
I was assigned in the diocese of Timika to the parish of 'maria bintang laut' (name of the church) kokonao (place). The Diocese was founded on December on 19, 2003 with the first bishop Mgr. John Philip Saklil. This new diocese has 113,420 members from 30 parishes spread along the southern coast, the central mountains of Papua to the north coast of Papua. For the sake of service effectiveness, it is common for several parishes to be merged into one parish due to limited pastoral personals. In 2015 the Diocese of Timika had 20 diocesan priests and 21 religious priests. The service area covers eight districts with an area of 102,892 km2, a very large service area with a very limited number of pastoral workers.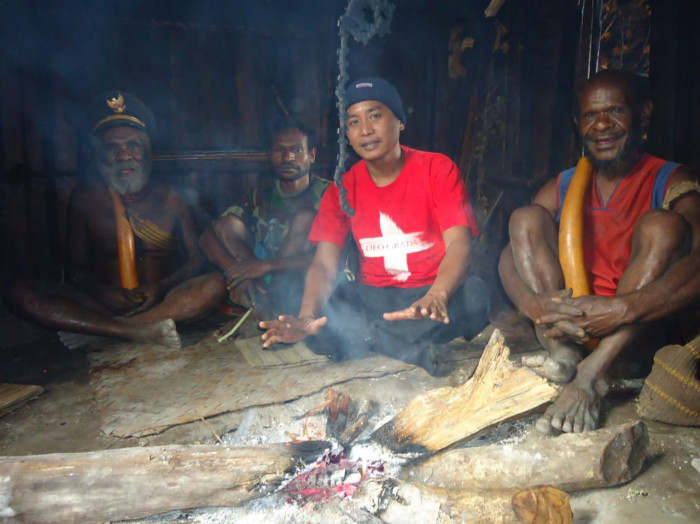 Nature is a challenge in itself in service
The southern coast, which is dominated by mangrove forests and muddy forests, makes the service area only accessible by boat and on foot. Several stations have airport facilities but there is no fixed flight schedule. During routine services and holidays to the farthest stations, it can take between ten to fifteen days for a single journey. Meanwhile, the service area in the central mountains of Papua with steep mountains can only be accessed by pioneer aircraft (The Scottish Aviation Twin Pioneer is for Short Take-Off and Landing) than taken by motorbike or on foot. Currently, the government is building a Trans Papua road (The Trans-Papua Highway refers to 12 road segments, some under construction, across Papua and West Papua provinces of Indonesia) starting from the north coast across the central mountains, which is planned to be connected to the south coast. If this path is completed, it will surely support the church's ministry.
The cultural background
Another challenge, namely the cultural background consisting of dozens of different tribes and languages has difficulty in itself. Many places of service must invite local people to become translators into the local language when visited. This includes when leading worship services, a translator must stand next to the altar to translate into their language. Besides, the minimal understanding and knowledge of the church and its teachings made preaching more complex. In this regard, I see that the Timika Diocese is quite creative by placing Catholic school teachers in rural areas with the additional task of being active in church life in their respective places of duty. They also teach religion in schools as well as become promoters in living the Catholic faith.
In my opinion, as a young diocese, the most urgent step at this time is to recruit cloud workers like catechists to cover up the lack of priests. The confreres with the formation of 14 members have begun to construct a multipurpose building. One of the goals of which is the education of pastoral personnel. Unfortunately, this effort is constrained by funding.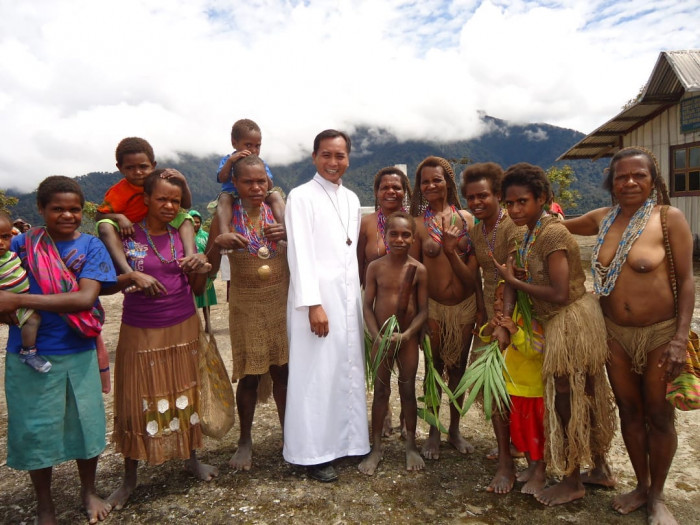 My life as Dehonian
How do I live my life as a Dehonian in such a situation? The first months were very difficult for me to adapt to culture, nature, and life habits. However, prayer and obedience to God became a separate source of strength and inspiration for the journey of my life and faith in the future. God in His way in various ways confirms and strengthens me. The natural beauty of Papua is the main attraction for me. From that realm then brought me to awe of His majestic work. Nature with pristine forests, very fresh air, countless animals and species made me realize that Papua is a part of my life. The uniqueness of the local culture also makes me fall in love with Papua.
Acceptance and brotherhood are characteristic of local communities which we can find from events held to welcome guests or newcomers. My daily interactions with the people made me understand that God's work for the Papuan people was never understood. Sometimes it seems to be not logical. For example, a woman from internal parts of Papua can give birth to healthy kids without drugs and sterile medical facilities they can do it with the help of the community. Another example is when the fever is high due to malaria. Ther way to cure is sleeping on the ground with banana leaves. And recover without taking medication. It's hard to reason, however. Occur. For me this is God's way of looking after, protecting, and blessing them. The government provides. Health facilities but are not optimal because medical personnel often live in cities than they are assigned to. Every time going to journey the scj must bring their medication for themselves. When the journey to the interior of Papua usually brings clothes to be distributed by the community, several times medicine, as well as school supplies for the children.
I invite you to pray
As a Dehonian, I invite confreres everywhere to pray for the confreres in the Papua mission land so that they will be blessed with good health and the power of the Holy Spirit to continue to be eager to spread the gospel to the interior of Papua. If God asks me "what do you want me to do for you? ". Then I will answer: "Lord so that I can see the prosperity and welfare of your people in the Land of Papua so that many people are moved to be involved in whatever form of evangelization in Papua.