The Priests of the Sacred Heart of Jesus, Venezuelan Region gathered from January 11 to 14, 2021 in Assembly at the Sacred Heart House of Jarillo in the State of Miranda. Days of meeting and sharing after so many months in isolation and staying at home because of the COVID-19 pandemic. For internal reasons in the country of gasoline shortage, the bus of the retreat house was enabled to move from the communities, as well as some were able to refuel and approach in their own vehicles of the communities.
The assembly began with lunch on January 11th and gathered in the afternoon where Father Alejandro Iglesias, Regional Superior, opened the meeting with the formal welcome. Father Carlos Luis Suarez, Superior General, transmitted an emotional message via ZOOM from the General Curia to encourage, greet, and wish a blessed working day for the Region during difficult times, inviting them to deepen the closeness and community fraternity as a detail or daily and natural gesture.
At present, the Region has 13 works animated by 7 communities in 6 places of Venezuela. There are 24 religious, 5 of Spanish origin and 19 Venezuelans, as well as 1 novice in Brazil and 5 aspirants in the House of Philosophical Formation Father Dehon.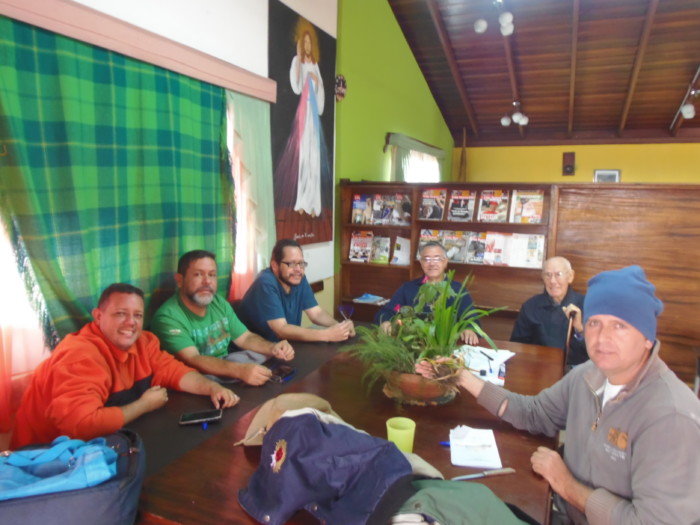 During these days, the theme that is approached is from the Encyclical Fratelli Tutti, Fr. Juan Yépez energizes the second day of assembly, emphasizing that it will be made timid to approach  the encyclical from brushstrokes that helps to enter in the papal proposal to reach a dreamed humanity, that goes beyond meetings and altruistic gestures, but to reach being brothers. Dynamics that helps those gathered in assembly to detect such a proposal from the charism, underlines the importance of listening and silence as a capacity for wise communication, healthy coexistence where reconciliation and forgiveness are evident, giving way to the repair and construction of a new society.
Fr. Manuel Torres, on the third day of the meeting, addressed the assembly recalling that the economy, beyond numbers and administrative entries, is a clear expression and a quantifiable measure of our vow of poverty, which is not a vow to live half-heartedly. Highlighting the importance of communicating not only from the senses, what I feel, but to express with objectivity and transparency the economic data, playing a fundamental role of the experience and the charismatic. Where it underlines the gratuitousness, the creative fidelity, and the abilities to shape and to settle administrative and economic movements, which must be thought, taken care of, and managed. For the administration of a community requires doing and praying.
During these days, the participants in the assembly had the opportunity to pray, listen, contemplate, express, and project what is desired as a Region, asking God to truly bring about the Sint Unum in the task entrusted in these Venezuelan lands.