The last full day of the XXIV General Chapter was a day of final details.
Among the proposals endorsed by the chapter was one that called for the new administration to create a commission to review translations of the Rule of Life and General Directory for accuracy.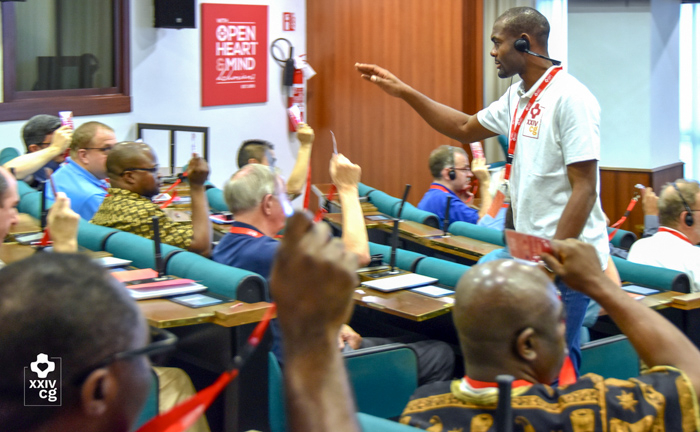 Also presented was the "Directives of Intra-Congregational Aid," a proposal presented by the General Treasurer which seeks, among other things, to create better systemization of the General Aid Fund. This was approved for use ad experimentum until the next General Chapter. Delegates also approved a proposal that calls for a commission to review and clarify the role of the Vicar General, the terms of the General Procurator and Secretary General, and the question of whether a newly elected Superior General should immediately be seated as president of the General Chapter.
Endorsed as well was a recommendation that the General Government study criteria regarding the sending and welcoming of SCJs internationally. It was noted that the challenges of moving to a new geo-cultural area, even for a short time, concern much more than language.

Revisiting the XXIII General Chapter
Delegates also reviewed and endorsed proposals from the 2015 General Chapter. They included a motion to offer public solidarity with persecuted Christians, a proposal to continue to promote international formation experiences, and a motion to seek new organizational structures to adequately serve young, growing entities as well as those where the Dehonian presence is declining.
Conclusion
The XXIV General Chapter concludes its work Friday morning, July 27; the closing Mass will follow at noon. Fr. Carlos Luis Suarez Codorniú, SCJ, superior general, will be the main presider and homilist.