The first days of the chapter centered on sharing the general administration's view of the congregation, including challenges and hopes for the future.
"Today we will totally change our perspective," said Fr. Stefan Tertünte, moderator. "Now it will be you, representatives of all our Dehonian religious, who will present the reality of our consecrated life as it is experienced on the various continents."
Delegates spent the morning in continental groups, each with the task of preparing a report about their geo-cultural area. Over the next two days these would be shared in plenary. After each report, the delegates would return to their continental groups to discuss what they heard.

Africa
The first continent to share its report was Africa. The delegates from Africa represent the Democratic Republic of Congo, Madagascar, Cameroon, South Africa, Mozambique and Angola, as well as the mission of Chad. There are three language groups on the continent: English, French and Portuguese.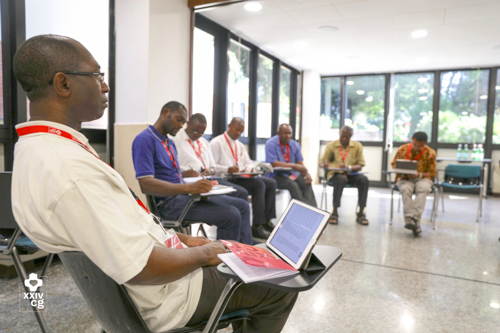 Several platforms for cooperation have been established. In 2016, the African Major Superiors Conference was initiated. Dehonians in Africa have held two continental conferences; the first in 2013 and the second in 2017. A continental Dehonian Theological Commission was established and has held two meetings, with the third scheduled for September.
However, it is in formation where the African entities have created a real sense of collaboration. Theology programs have been established for English and French-speaking students; soon there is to be a Portuguese scholasticate in Mozambique. There have been international novitiate programs, as well as a rotating final vow program.
Throughout the continent there are significant Dehonian social works, such as outreach programs to street children in DR Congo. There are SCJ schools at all levels of education, including a university in Madagascar. There is also parish ministry, as well as growing efforts in sharing the Dehonian charism with lay people.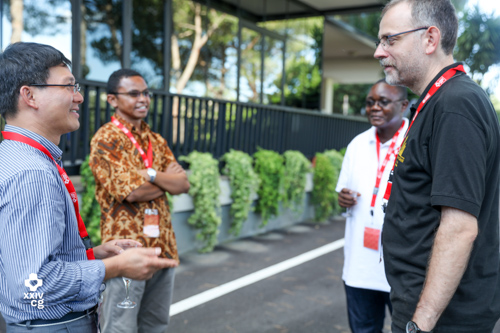 One of the greatest challenges for Africa is revenue generation, not just for self-sufficiency, but to initiate new programs to meet the many needs of the African people. Just as they have done in formation, African SCJs hope to work together to address financial concerns throughout the continent.
New mission possibilities
Under the direction of the general administration, the continent is looking at new mission possibilities in Kenya and Nigeria. Representatives from South Africa, Mozambique and DR Congo joined Fr. Léopold Mfouakouet, general councilor, for a fact-finding mission to Kenya earlier this year. They were warmly received by several bishops who are already asking for a commitment from the congregation. The initial concept is to establish a community of three SCJs, all of whom should be in final vows for 10 years or more. At least one would need to study the local language (Swahili). However, this is still in the exploratory stage.
Chad
Dehonians have been in Chad since 2010; the mission has been entrusted to the Province of Cameroon. Fr. Jean Marie Signié, provincial superior of Cameroon, said that evangelization is a priority for mission, but Chad is an extremely poor country were the needs of basic infrastructure cannot be ignored.
In many places there are no primary services, no clean water, no schools or hospitals. Illiteracy is high, and even church buildings are at a minimum. "Sacred areas" are created outside where an altar is often set up under the shade of a tree, welcoming people for celebration.
Education is also a priority in Chad. Working in collaboration with several religious sisters, Dehonians have created an informal school for girls and young women who would otherwise have no option for schooling. This includes vocational training for those who are handicapped.